Have you ever wanted to see inside of a store, or favorite place but for some reason did not have the time, energy, etc. to be able to get there to do it? Today I am bringing you the inside of Sydney's Vintage Clothing store in Auburn, Al.! Please keep in mind that the items you are viewing are not on the website, this is Auburn store location only. Enjoy your tour....
Long wall rack of ladies formal evening dresses, 40's through 80's, Jackie O, Marilyn, Audrey styles and anything in between:
Unisex Vintage T-shirts from the 70's, 80's and some 90's, pretty cool!
Top displays of the vintage formal dress wall...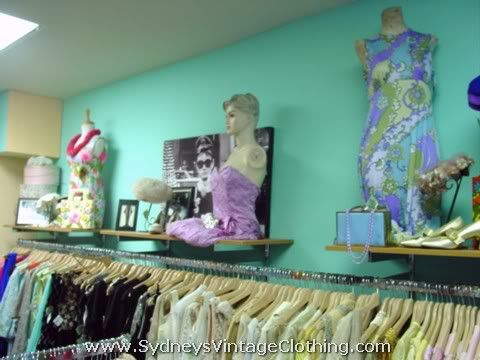 Vintage Leather Cowboy boots! Keep in mind there are women's cowgirl boots some where's around here too!!!....
Vintage 70's Men's Disco shirts, every day shirts, Hawaiian, overall just plain ole' cool shirts....below not pictured are men's bell bottoms!
Tons of vintage costume jewelry, earrings, necklaces, pendants, rings, bracelets, brooches....
Accessories, I mean like every lady's wardrobe is not complete with the proper shoes, hats or purse.....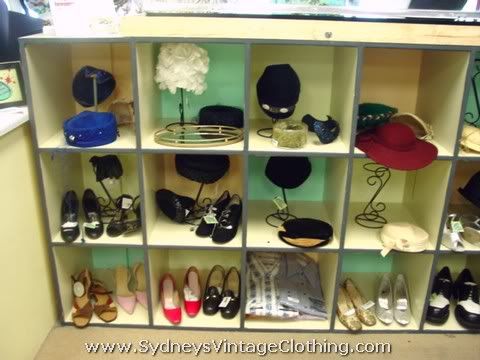 More vintage jewelry!!!!!!
Vintage luggage, YES your favorite suitcases, shoes, and even a dresser!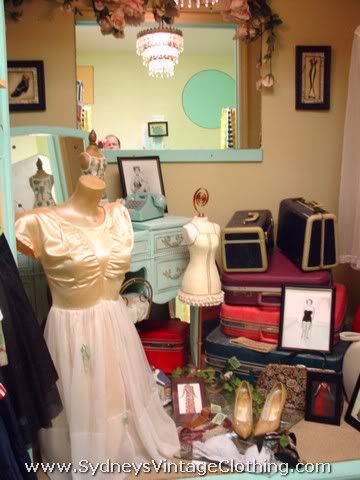 Let's not forget the women's vintage suit jackets, like from the 40's, 50's through the 80's!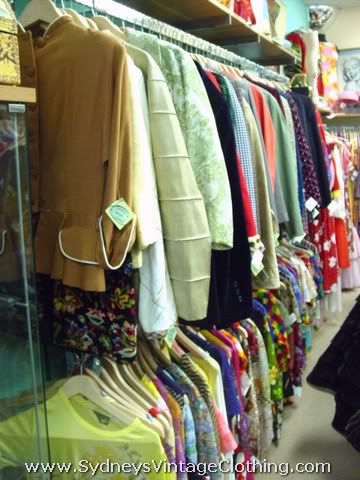 Women's casual vintage dresses......
More women's casual every day vintage dresses.....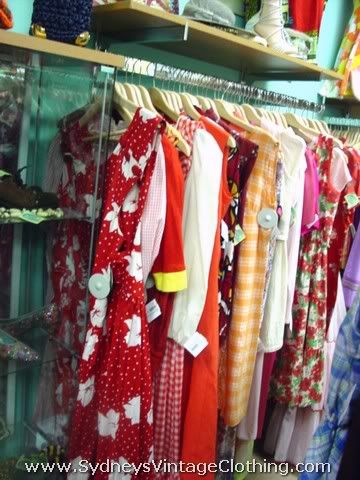 And not to bore you, BUT there is EVEN MORE women's vintage dresses!!!....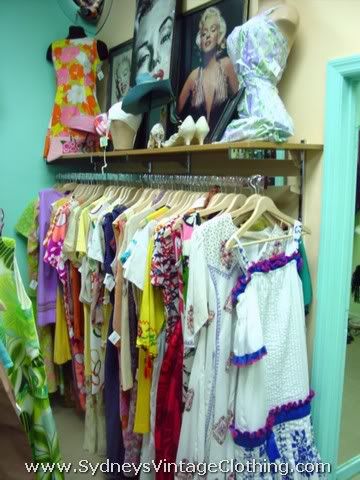 Well folks there you go a small virtual tour of the inside of my little vintage clothing store. As I have said before, the items that you see are not in
SydneysVintageClothing.com
, BUT if you see something that you are EXTREMELY interested in, email us and we can pull from the stock to sell & ship to you. Hope you enjoyed your visit!